I figured it'd be easier to just label it Friday Memes as there are a few and didn't want the title to be so damn long.
So, let's get the show on the road. First up on the Sensual Ride as always is
Follow Friday
that is hosted by
Parajunkee's View
.
Q.
Let's step away from books for a second and get personal. What T-Shirt slogan best describes you?
My Answer:
I've had this shirt for so long, and unless it rips or falls off me it's so warn, I don't plan on getting rid of it.
Second up...
Book Blogger Hop
hosted by
Crazy-For-Books
.
Question:
"Highlight one book you have received this week (for review, from the library, purchased at the store, etc.) that you can't wait to dig into!"
My Answer:
I bought
What a Demon Wants
by Kathy Love. I've read all of her other vampire/demon books that came before it and have been waiting to read this one.
Next...
Bad Girl Follow Friday
by
Bad Girl Bloggers
.
Much love for all Bad Girls all over and this week's Featured Bad Girl
Saucy B
. And this week's code is Tit Sweat is Imminent. Wow.
Now,
Blog Stalk Friday
by
★Rockin' Mama★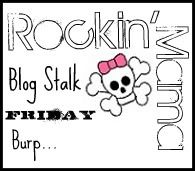 It's pretty easy. Stalk this bitch.
Yep, that's it.
Then follow me here,
Twitter
,
Facebook
, even
Goodreads
. You'll find the buttons on the left or just click here on the post. Either way, stalk me. It's a great view. ;)
And last but not least, a new one. Well, it's not new, but it's new on this blog. I've seen it around but never done it. It's
TGIF
from
GReads!
Character Envy:
If you could be one character from a book, who would you choose & why?
My Answer:
That would definitely have to be Mercy Thompson from Patricia Brigg's Mercy Thompson series. Not only is she strong, can totally kick your ass in a second, but she also has a wolf pack in her backyard. I mean, sure, it seems like there's constantly something happening to her whenever she thinks she can rest, but no matter what, she knows she can count on the pack. Which includes the sexy Alpha werewolf Adam. Man oh man would I like a chance with him.
Not to mention that Mercy isn't your typical blond hair blue eyed character. She's Native American, and has some meat. She's curvy and sexy. And she fixes cars! I would love to know more about cars so I don't look like an idiot every time my dad tries to explain something.
Damn, that was a lot.
Anyway, don't forget to vote for your favorite kind of hunk and for Mr. July as the polls will be closing in only two days. Also, don't forget to enter into the giveaway that will be ending 8/9/11. Click
here
to enter.
Well, I hope you enjoy your Friday and weekend.